Latin America's premier executive air transport exhibition LABACE (Annual Latin America Business Aviation Conference & Exhibition) is back this year in São Paolo, Brazil on 9-11 August, enabling Leonardo to provide an update to the regional helicopter market on what's next with its VIP/corporate transport offer under the new Agusta VIP brand. LABACE marks the introduction of the new Agusta brand with its initial range of dedicated services during a significant aviation exhibition in this important region.
With a global fleet of more than 900 helicopters carrying out a range of passenger transport missions, including private transport, corporate transport, charter, scheduled services and VIP/Government transport, approximately 25% of them are based in Latin America. Leonardo has retained a leading 45% share of the world's multi-engine VIP helicopter market over the last decade, and is the benchmark in Brazil in this sector, leveraging key differentiators which have made its dedicated model range the standard: top class speed and overall performance, high customization levels, outstanding cabin comfort, latest navigation and mission technology, latest certification and safety standards, and a distinguished Italian style.
The new Agusta brand updates the distinctive factors that made the company famous and popular among world's and regional operators, adding more solutions and services as technology evolves further.
The first example of combining heritage and innovation was presented with the all new rotorcraft terminal designated Casa Agusta - jointly with Falcon Aviation - in Dubai in late 2021. On the same occasion, the innovative AW609 tiltrotor was also exhibited, a solution that is transforming the world of rotary-wing transport, facilitating connections to urban centres and bringing private airport transport services to cities due to a fully operational terminal.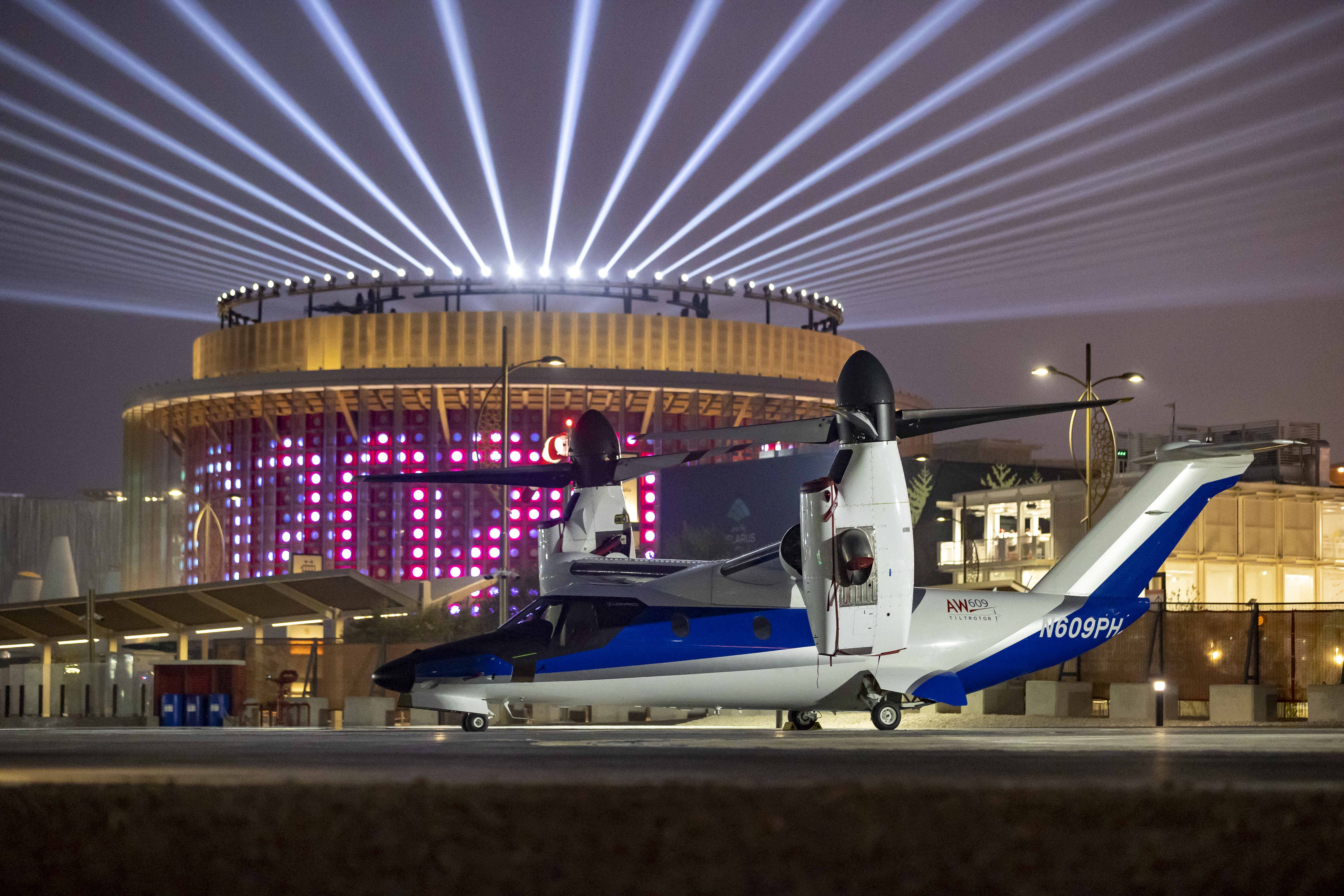 At LABACE, Leonardo is providing an update on latest plans for new options and services dedicated to VIP/corporate helicopter operators under the Agusta brand initiative. These include the Interior Moods layouts, a new integrated maintenance service plan and a dedicated Agusta section in the Leonardo Helicopter Customer Portal. The Interior Moods, initially crated for the AW169, AW139 and AW189 helicopter types, consist of three all new different options - inspired by the names of iconic cities - for interior layouts based on stylish specific colours, materials, seat configurations and on-board options. These are intended to allow customers to select and create their ideal and perfect habitat which can best mirror their tastes, while and meet their needs: from the sense of warmth, harmony and pureness of 'Florence', to the coexistence of opposites in 'London' like tradition and innovation, and the energy and passion shown by 'New York' and its cosmopolitan cross-fertilization of habits and behaviours.
The new AGUSTAforYOU helicopter service plan specifically developed for operators of corporate rotorcraft, is intended to enhance aircraft availability, reduce inventory costs and optimize expenses and covers scheduled and unscheduled maintenance of airframe/avionics components and other items. Types initially supported include AW109 GrandNew, AW169 and AW139 with the plan to extend it to other platforms in the future. Furthermore, on the Leonardo Helicopter Customer Portal, VIP operators will have a dedicated area to verify the progress and status of their helicopter manufacturing and testing, also including images. Overall, these steps are aimed at delivering more distinct answers to meet exclusivity requirements and make the ownership and operations from day 1 a true 360° experience when choosing Agusta.
Leonardo VIP helicopters also feature a range of technologies supporting safety, comfort, navigation and mission effectiveness, support and training. As a clear example, Leonardo is exhibiting an AW169 light intermediate helicopter on static display at LABACE. The only latest generation helicopter in its category in over 30 years, the AW169 features a range of innovations, typically not available on light multiengine models with substantial benefits also for passenger transport duties.
Cockpit and cabin comfort for crews and passengers on board are supported by an APU (Auxiliary Power Unit) Mode capability, allowing key systems like air conditioning, heating and radio working by leveraging power generated by one of the two engines. This contributes to an ideal environment and use of on-board equipment, in any weather and geographical condition, with no need to keep the rotors running translating in greater safety, less noise and lower fuel consumption and emissions. The AW169 is available with three undercarriage options: retractable or fix landing gear and skids. The retractable landing gear option is fully electrical thus reducing weight and easing maintenance while reducing its cost. The modern digital glass cockpit features touch screen technology and a versatile representation of all key information, therefore delivering greater situational awareness to the pilot and reducing workload to concentrate on the mission and increase safety.
Over the last year Leonardo also took a further step forward to strengthen the level of quality services supporting helicopter operators in Brazil and Latin America with its all-new Service and Logistics Centre headquartered in Itapevi, 30km far from São Paolo. This was the result of an R$60 million investment (approximately 9 million EUR) - the new site is based on an 80,000 m2 area, of which 6,000 m2 comprises buildings and infrastructures, and it can host up to 20 aircraft simultaneously. There will be the gradual addition of aircraft maintenance, training facilities and a range of industry capabilities such as painting and completion and the new centre will allow the expansion of service capacity by up to 50% compared to the previous dedicated site, with significant benefits also for VIP operators.
The new site is expected to host up to 370 aircraft every year to deliver its services, with the potential of further expansion. The missions that are carried out by Leonardo helicopters across the region include VIP/corporate and VVIP transport offshore transport, rescue duties, law enforcement, fire-fighting, military roles. The most popular types include the AW119 single engine, the AW109 light twin legacy, the AW139 intermediate twin and, more recently, the AW169 light intermediate. The AW189 has introduced new capabilities into the region supporting the energy industry.
In recent years, the continued growth in the region, along with the introduction of all new models will support Leonardo in meeting evolving requirements throughout the region. The new Service and Logistics Centre in Itapevi demonstrates Leonardo's long-term commitment to the region and aligns Leonardo's focus on stronger support services and proximity to operators. Enhanced services will help maximise the helicopter fleet's mission effectiveness and safety for the benefit of operators, crews and the served communities.